The radio had excellent parameters for the times. To reduce dimension and consumer power so- called transceiver schematic (when the same parts are used for receiving and transmitting) was used. So, the radio had weight only 2- kg (or 4 pounds) that was perfect for ww-II radio. Antennas and spare parts had weight 2- kg (or 4 pounds). Batteries weighted 6- kg (or 13 pounds). The radio set was packed in two small fabric bags. Figure 1 shows the schematic. Some of the samples of the "Sever" were marked in English and American or English parts were made for producing of the stations.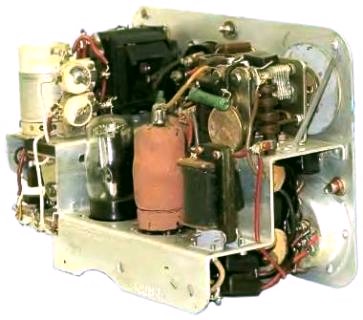 Receiver was made by usual at the times scheme 1-V-1. It had one aperiodic RF-Amplifier and then a Regenerative stage. Hi-ohmic head set was used by a radio operator.
Transmitter had output power near 2-Watts. It has RF generator and then power amplifier. RF generator could work in two modes- first, using external quartz resonator (usual there were several of them in the radio spare parts), second, in
self-excitation mode covered a
wide frequencies range. A small key was used for transmitting.