For antenna measurements I used to a home brew RF- Bridge
(http://www.antentop.org/024/Simple%20RF-%20Bridge%20_024.htm).
It was very compact device that can be used in the roof and field. However, to test the antennas the RF- Bridge needs RF generator that provides at least 50- mW of RF power. For my field applications it should be compact, battery powered and stable source of RF energy. At first time I made RF generator from Reference 1. It was simple and enough powerful one. It provides near 50- mW of RF power and could be used with RF- Bridge.
However, the RF generator cannot provide good frequency stability and output power over the ranges. The frequency was varied while RF-Bridge was setting to null. As well it was for RF power which level varies while the load of the generator was varied. The generator was redesign to meet the requirements for antenna testing. Figure 1 shows schematic of the RF generator. If the schematic would be compared with Reference 1 it should be noted, that it is added a voltage linear regulator U1 (5V) that provide stable voltage to master oscillator on Q1 and Q2 while input voltage is changed from 12 to almost 6 volts, and power RF amplifier on Q3. The buffer power amplifier helps eliminate the influence of the load to the frequency and gain the output power. Stability of the RF generator is suitable for adjusting narrow-bandwidth antennas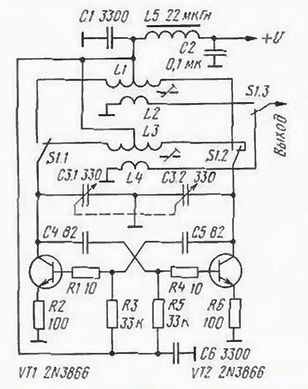 Picture 1
RF- generator from Reference 1