ANTENTOP- 01- 2006, # 008
Radio Signals out of Our Times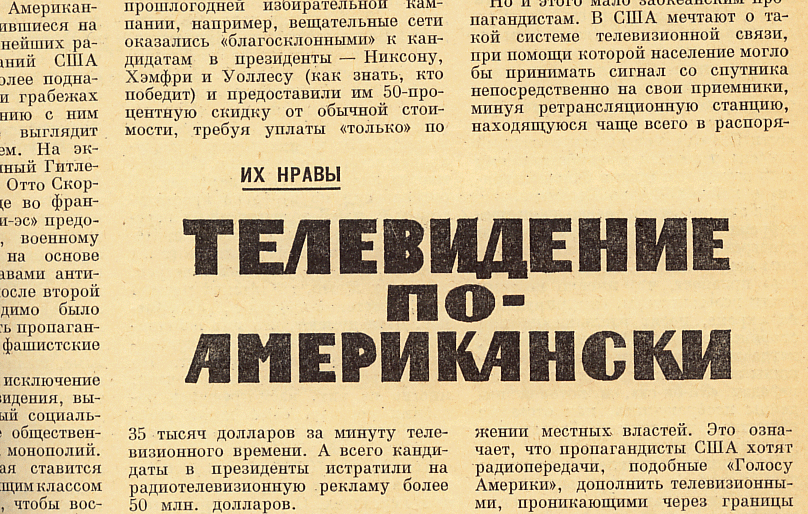 Radio # 5, 1969

Head of article about disgusting capitalistic TV

"American TV"

Author- chief of Main Information Redaction

USSR TV

N. Biryukov
Some "job" was made with amateurs who watch far TV. In one of days my friend directly from his job was taken in KGB, where it was strongly recommended to him do not receive far TV, and especially do not try to receive TV from capitalistic countries. During this conversation, when he was in KGB, all equipment for reception of far TV was withdrawn from his home. As well were withdrawn all radio parts, coaxial cables, his archive of photos and all correspondence with his friends by far TV. Antennas for far TV were demounted, antennas masts were removed. When he returned to home, he found there only one TV with indoor TV- antenna. What is interesting, the TV was gifted him by KGB. My friend did not have "usual" TV all his TVs were intended for reception only of far TV.
About this case of reception telecast from the future time, has told to me RK6AOH, Dmitriy, when we together discussed the theme- radio receiving from another times.
In my childhood, may be I was 5 years old, a lot of time I spent with my grandmother in a summer home (in Moldovka village), that was located on a coast of the Mzymta river. Now I live in Adler. So, I was playing and watching TV, we had old tubes w/b
TV, UNT- 47 Of course I was watching TV like children do it, in snatches between playing. Suddenly telecast was break by unusual music clip that attracted my attention. I have watched all the music and then run away to play. I have remembered well the music because it was so unusual and interesting music for the times.
I have very good music memory. It was astonishment for me, when two years ago when I was watching a